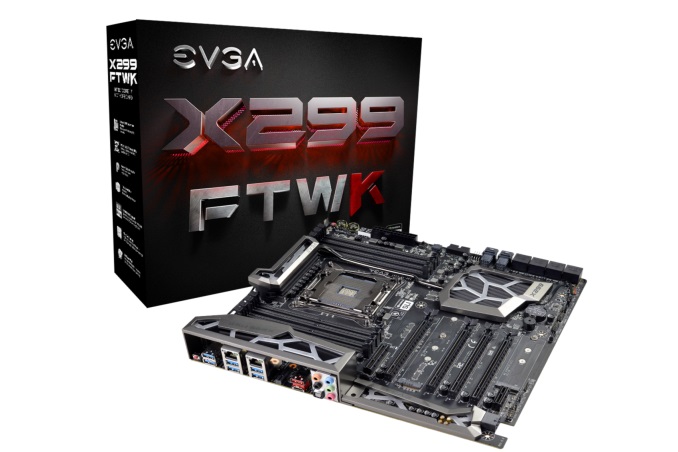 The EVGA X299 FTW K is our first X299 motherboard from EVGA. The FTW K aims to bring users a solid power delivery, three-way multi-GPU capabilities, two M.2 slots, and a unique feature so far on our X299 coverage: two U.2 ports. The X299 FTW K looks to fit into the crowded mid-range segment for X299 motherboards at its price point. We will put it on the test bed and gave it a thorough inspection.
EVGA is a bit unique when it comes to their motherboard product stack. Unlike the four major motherboard companies that have almost a dozen options apiece, EVGA usually has only three boards in the market for a given chipset. This time around, the EVGA boards consist of the X299 Micro (a MicroATX offering), the X299 FTW K (this review), and the X299 Dark (a flagship X299). While a 'gaming' or 'professional' designation is missing, the fundamental requirements for a good X299 board are still the same. The X299 FTW K attempts to hit the mainstream of X299 users, without going above and beyond like the Dark or for small-form-factor builds like the Micro.
One of the more unique items to crop up in our X299 coverage comes from the X299 FTW K: here there are the two U.2 ports on the board. Only a select handful of X299 motherboards on the market have one, let alone two. Not that it is a hugely popular item, but if you are looking for the performance of the top M.2 PCIe x4 NVMe based drives without the potential hassle of cooling them, U.2 and standard sized drives may be your answer. Be aware that in order to use both the U.2 ports, a 44-lane CPU (a Core i7-7900X or higher) is required.
EVGA X299 FTW K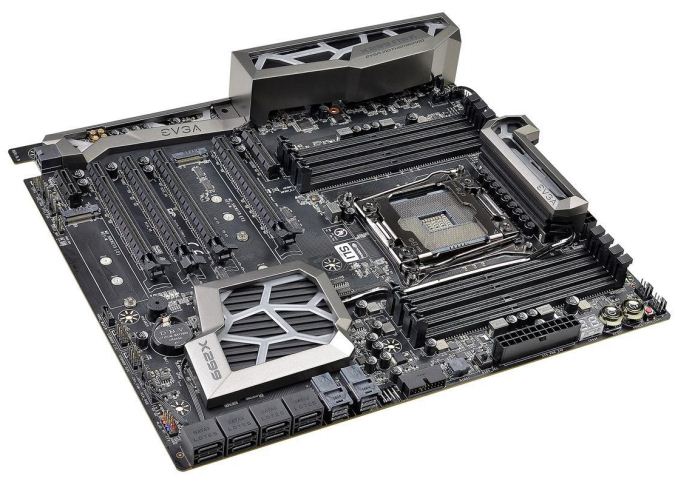 Regarding storage options on the X299 FTW K, aside from the dual U.2 ports, there are also eight SATA ports and two M.2 slots. One of the M.2 slots is directly connected to the CPU while the other sources its lanes through the chipset. The board supports up to 3-way SLI and 3-way Crossfire using three of its four full-length slots, despite supporting x8/x8/x8/x8 which would allow 4-way with single-slot or thin liquid cooled GPUs. With it being called the 'FTW K', the K in this case stands for Killer, and one of the gigabit Ethernet ports is powered by an E2500 controller.
Our performance results for the FTW K were mostly found to be average with it doing very well in power use.  From long idle power testing to our load testing, it used less power than all of the previous X299 boards tested so far because the load voltage was a low, due to the CPU dropping to its base clocks to run. This motherboard, with the latest BIOS we used for testing, automatically applies an AVX offset of -300 MHz no matter if the cores are set to Auto or either of the manual overclocking options. Because of this, and no other board we've tested so far behaves this way, we see a lower power use stock settings. Outside of this, the rest of the results have the FTW K an average performer sitting in the middle of the pack in most other tests. For overclocking, we managed to hit 4.5 GHz on our i9-7900X and ran into our temperature limit. The voltage required to reach this clock speed was on par with the other boards.


Manual overclocking results
The EVGA X299 FTW K is currently priced at $330 on Newegg US. This places the board, by price, squarely in the crosshairs of other boards like the MSI X299 Gaming Pro Carbon AC at $330, the ASRock X299 Taichi XE at $323, and the Gigabyte X299 AORUS Ultra Gaming Pro at $350. There is a lot of competition around this price range so it will come down to included features and use to pick between them.
EVGA X299 Strategy
EVGA's X299 strategy has three motherboards, competing against the other major manufacturers that have 10 or more boards filling out many of the niches of the market.
EVGA's X299 Motherboard Lineup (11/28)
AnandTech
Review
Amazon
Newegg
X299 Dark
requested
–
–
X299 FTW K
this review
–
$330
X299 Micro
upcoming
$290
$290
The least expensive board is the X299 Micro which as its name implies, is a MicroATX size motherboard. Next up the stack is the product we are reviewing here in the FTW-K. This board will compete with other mid-range offerings through its feature set and price. Finally, the flagship of the EVGA X299 stack is the X299 Dark which will match up with other board partner's flagship offerings.
Information on Intel's X299 and our other Reviews
With Intel's release of the Basin Falls platform, encompassing the new X299 chipset and LGA2066 socket, a new generation of CPUs called Skylake-X and Kaby Lake-X were also released. The Skylake-X CPUs range from the 7800X, a hex-core part, all the way up to an 18-core 7980XE multitasking behemoth. Between the bookend CPUs are five others increasing in core count, as in the table below. The latter HCC models are set to be launched over 2H of 2017.
Skylake-X Processors
7800X
7820X
7900X
7920X
7940X
7960X
7980XE
Silicon
LCC
HCC
Cores / Threads
6/12
8/16
10/20
12/24
14/28
16/32
18/36
Base Clock / GHz
3.5
3.6
3.3
2.9
3.1
2.8
2.6
Turbo Clock / GHz
4.0
4.3
4.3
4.3
4.3
4.3
4.2
Turbo Max Clock
N/A
4.5
4.5
4.4
4.4
4.4
4.4
L3
1.375 MB/core
1.375 MB/core
PCIe Lanes
28
44
44
Memory Channels
4
4
Memory Freq DDR4
2400
2666
2666
TDP
140W
140W
165W
Price
$389
$599
$999
$1199
$1399
$1699
$1999
Board partners have launched dozens of motherboards on this platform already, several of which we will have an opportunity to look over in the coming weeks and months. This specific review will cover the MSI X299 SLI Plus.